There is a longstanding joke among men in the Black community that Black women do not forget anything…ever. Black women have more recently co-signed and reified this truth by publicly producing figurative and literal "receipts" documenting the past when necessary.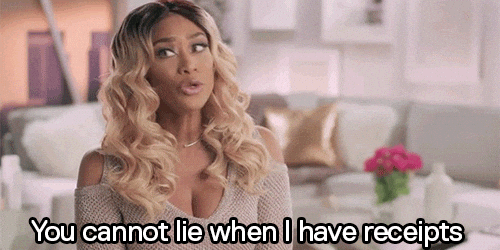 Black women have been about this memory and truth life. While the world benefits, these good deeds often go unrecognized. There's so much more I could say about Black women and public displays of rhetorical memory, but for now I want to frame the significance of it in these times.
In The Writer's Book of Memory: An Interdisciplinary Study for Writing Teachers, Janine Rider highlighted the importance of memory as a canon of rhetoric in Composition Studies, pedagogy, and overall human function. She rebuffed inadequate understandings of memory as rote memorization of information, and explored memory as not only the storehouse of information, but also as cognitive and interpretive processes that require language and make human life meaningful. It is because of the epistemological functions of memory, that Rider argued an emphasis on memory becomes all the more vital as we develop and use more forms of external memory and media. Rider's claims during the 1990s, a time of floppy disks and network television news broadcasts, seem prophetic now during this time of 24-hour cable news streams, incessant and ever changing social media feeds, and claims of "fake news."
Rider's final chapter "Re/membering Culture(s)," provided a precedent for understanding collective memory-making through media. Citing David Marc, she discussed/ the ways in which television in all of its pervasiveness serves as a form of public memory representing, recording, and re-circulating our cultural norms. Marc and Rider also highlighted the influence that advertisers have over what airs and how our collective memory is shaped. The parallels between the role of television then, and the current role of social media feeds as makers of collective memory and tools of influence for company owners, advertisers, users and other stakeholders are striking. Television and social media are both so pervasive and embedded in our culture that their influence is often not visible. This invisibility is aided by the immediacy (Bolter and Grusin 1999) of the media itself. Immediacy is defined as a "style of visual representation whose goal is to make the viewer forget the presence of the medium (canvas, photographic film, cinema, and so on) and believe that he is in the presence of the objects of representation" (Bolter and Grusin 1999: 272). Within this context, it then becomes easy to accept an externally crafted collective memory or truth as one's own, if they do not have their own sense of memory, truth and literacies to decipher and articulate them.
Rider described how the disconnect between external information and our lived experiences and memories can lead to silence in ways that resonate deeply with me during this current moment of post-truth and gaslighting regarding the COVID-19 pandemic and systemic racial injustice and state violence:
In a world where we are bombarded with information, where we must depend on external memory banks for knowledge way too profuse for us ever to absorb completely, we are silenced. When our own sense of connection or knowledge or reality seems at odds with flow of events outside us and the prevailing 'wisdom,' we are silenced. We have nothing to say. We have no language with which to make ourselves understood. Our memories do not connect with our high-tech, mass-produced, and mass-promoted culture, we cannot understand ourselves or our world. (Rider 116)
Fortunately, this is not the case for many Black women who utilize social media. Black women's rhetorical memory, including (re)membering (Dillard 2008, 2016) and rememory (Morrison), in this post-truth era continues to resist silence and erasure. Black women's rhetorical memory includes the use of Black women's language, Black girls' digital literacies such as hashtags, and endarkened feminist praxis (Dillard 2016). Rider's assertions about the need for our own language and memory in order to resist, write, live, and make meaning as autonomous subjects has never been more salient. Black women and girls are not new to this, but have always been true to this, and continue to show how it should be done.